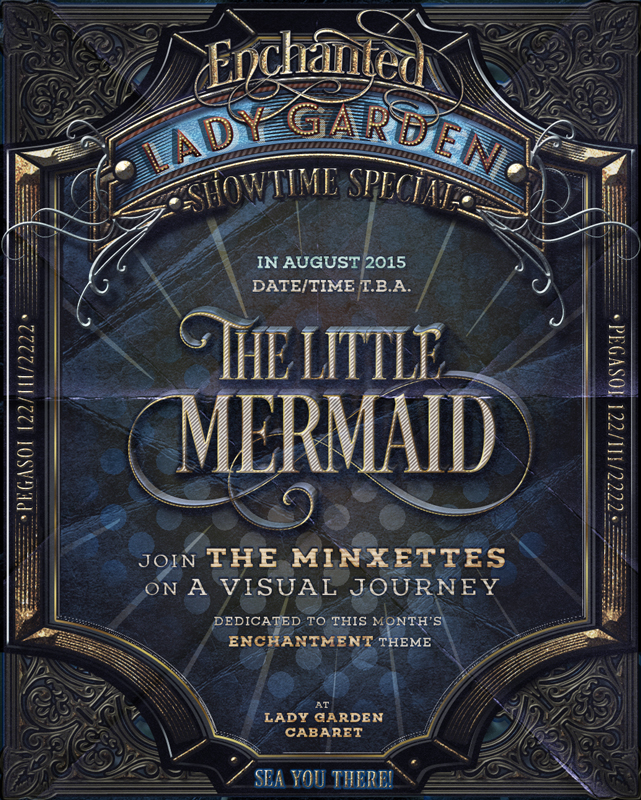 Tickets please!
=============================
..::LADY GARDEN CABARET::..

presents

The Enchanted Lady Garden

======================
Take your seats, Ladies and Gents, for one hell of a show!
Lady Garden Cabaret brings you seduction, tease, entertainment and glamour in the form of a troupe we call The Minxettes!
[dropcap style="color:#7E2F34;"]F[/dropcap]irst established in March 2011, LGC has been a permanent star on the sky of virtual entertainment and stands for burlesque, neo-burlesque and overall fantastic dance enterainment Vegas style. Get yourself comfortable in our charming little cabaret house, as The Minxettes take you through the night with their amazing set designs and fully choreographed numbers, all inspired and executed by our most talented dancers… You'll encounter a wide array of musical styles and virtual flavors, in 3 words: "5 star entertainment!"
[dropcap style="color:#7E2F34;"]W[/dropcap]ith LGC's location move in April 2015, the venue joins the Ippos & Pegasoi collective and happily picks up on the new creative challenges of their neighboring events. Starting with August 2015, Lady Garden Cabaret will be a part of "Enchantment" and take you on a visual journey matching the theme of each round. These special shows will take place quarterly, next to our monthly main show, so watch out for date announcements or join Lady Garden's subscriber to be surely reminded.
—————————————————————————
Main Show: Last Friday of the month at 3PM SLT
Enchanted Shows: TBA, they will be US and EU friendly times.
–> Please leave scripted items and HUDs at home, we need all resources to make
sure our girl's stage sets run smoothly 🙂
Thank you <3
Our script counter will send you straight back home to
strip down if you don't take this serious 😉
—————————————————————————
Inworld Group: secondlife: Lady Garden Cabaret 
Venue and Subscriber Location:
http://maps.secondlife.com/secondlife/Pegasoi/122/111/2222
Blog: http://ladygardencabaret.blogspot.de/
Flickr: http://www.flickr.com/groups/ladygardencabaret
Please take note, some of these are not as frequently updated as others – don't let yourself be fooled and mistake that for inactivity, you'd miss out so much 😉