New updates?! What?! Ha. Hello and welcome to the newly revived ENCHANTMENT! As some of you may know Duchess Flux and myself, Sorcha Ireland have taken over responsibility and ownership of ENCHANTMENT with Voshie Paine's blessing and we are absolutely thrilled to do so. ENCHANTMENT will run every three months with a new fairytale inspiration/theme. The theme will also revolve around the season's so that we're all getting the best, most up-to-date, and imaginative items from each round! That being said, we don't want ENCHANTMENT to be 'just' a shopping event. We want it to be an experience! That's why we will be having performers from all over Second Life join in on the fun and participate in several different ways!
We've added another spectacular performer to our line-up and I am so honored to introduce him all to you. Though, you may already know him. He's an incredible performer in RL and SL and is highly regarded in both. He also happens to be one of my dearest friends. Redhawk has quite an amazing resume and that should speak for it's self, but once you hear him live… There is no going back. On August 12th, Redhawk will be performing LIVE on the gorgeous Nymphai SIM! In honor of ENCHANTMENT he'll be singing some incredible tunes from "The Little Mermaid" and other awesome pirate/sea-faring tunes. Maybe he'll even play us some of his originals! -fingers crossed- The performance will be on the Nymphai stage and guest are urged to bring their loved ones, family, and friends. Nymphai is a family friendly community, so feel free to bring your little ones!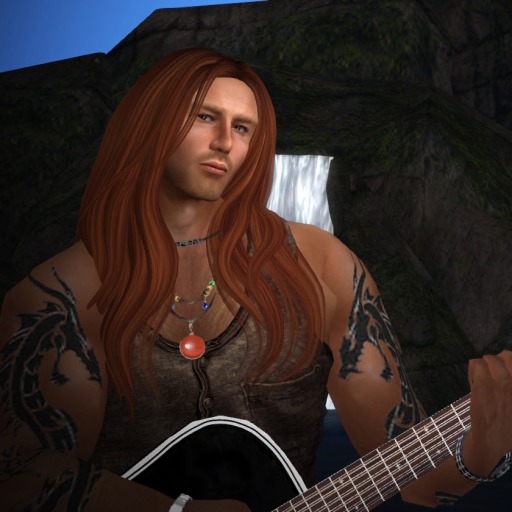 REDHAWK Camlach Gans
Singer, Song Writer, Musician, Producer, Engineer
REDHAWK was born in SL April 25th 2008, he plays fourteen instruments and sings with a voice that has been compared to singers like Steve Perry from Journey and Dennis D'Young from Styx. As a Live Performer, REDHAWK is high energy and performs his original works as well as some of his favorites by famous RL artists ranging from Eagles to Billy Joel and Styx to Journey.
His hair-raising vocals and intense guitar playing will pull you in and move you through many emotions making REDHAWK a phenomenon here in SL, so sit back and enjoy the ride.
REDHAWK performs on a Takamine twelve string acoustic guitar which he makes sound like an orchestra and it has been said that his playing style is one of a kind. Ken Keller the voice and creator of REDHAWK, has opened for America, Little River Band, Three Dog Night, Dave Mason, Humble Pie, T'Pau, Bertie Higgins to name a few.
RedHawk is driven as a performer by his compassion for mankind and you will find his lyrics to be very prolific and full of emotion. A dynamic combination accompanied with melodies that stay with you long after his concerts.
Nominated for seven Avi Choice Awards 2015:
FAVORITE ROCK SINGER
FAVORITE POP SINGER (RedHawk)
FAVORITE MALE PERFORMER
FAVORITE ORIGINAL SONGS ARTIST
FAVORITE ACOUSTIC SINGER
FAVORITE INSTRUMENTALIST
FAVORITE SPOKEN WORD PERFORMER/ACTOR MALE
Winner of five Florida Motion Picture and Television Association Awards FMPTA 2002:
BEST MALE VOCALIST
BEST CD BY AN INDEPENDENT RECORDING ARTIST
BEST PRODUCER
BEST ORIGINAL ARTIST
BEST SOLO ARTIST
Nominated for Native American Music Awards NAMA 2002:
BEST INDEPENDENT RECORDING ARTIST
*For booking information and fees please contact REDHAWK's manager, Smilemaker Mathy