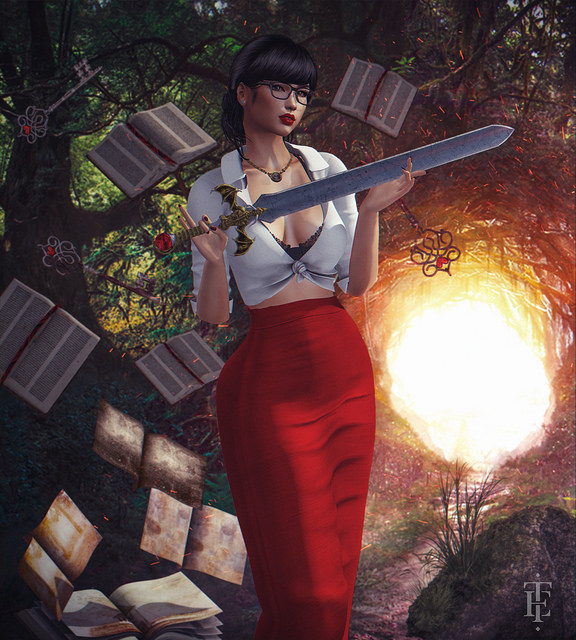 Hear ye! Hear ye! Enchantment would like to announce our Knights of Enchantment!  These brave bloggers took on the incredible task of making sure every designer at our event is featured in some way on their blogs.  This can take a lot of thinking outside the box since fantasy themes tend to bring out some amazingly unique creations.  Each round we will pick a first place winner for the best picture in our Knights of Enchantment contest.  This photo must not only feature creations that may have been missed early on but also use the theme of the event to create a beautiful piece of art and expression.  These bloggers go above and beyond to bring each round of Enchantment to life!
It was an incredible Brothers Grimm round last November and it was very difficult to pick a winner of this contest.  But today we would like to announce the winner: Emico Tediore. 
Learn more about her and see her winning photo featured above this article.
SL Name: itsemico resident
What you prefer to be called: Emico Tediore
Blog URL: https://halfheartaway.wordpress.com/
Flickr URL: https://www.flickr.com/photos/emico7/
What is your favorite fairy tale and why?
I think that would be "Brave" I loved Merida since the very first time. She is, indeed, brave and she doesn't sit and wait for problems to magically solve or for some kind of prince Charming to fix her life. She fight for her loved ones and she doesn't just simply accept her fate. And during days like these, I think thats a strong message to send out 🙂
What is your favorite thing to blog about?
I love how Enchantment allows me to bring out that magical side, we all have inside (some more than others). My favorite thing is the opportunity to somehow mix daily things with a fantasy concept, just like the Dr. Sela Mathers photo.
What is your typical "style" that you like to put together/photograph for your fantasy images?
I like all 'forest' things. Trees, fireflies, little animals, even maybe a lake!! There is something about forests and fairy tales that just works perfectly together
What inspires your creativity?
My creative process is SO random. Some days I can do 3 photos in a row in only a few hours, but others, I just try to put stuff together without any luck. And if I could choose, I wouldnt change a thing. I LOVE it that way, cause I never know how my photos will look in the end. What inspires me the most, is the amazing work our designers do. You can notice the effort the put on every single item.
Any advice to other fantasy bloggers?
I don't really think I can give them an advice. Enchantment has one of the most amazing bloggers team. Im always in awe by the work they do!! Every single round. All i can say is: Keep the hard work!! 🙂
Thank you Emico and the Knights of Enchantment for doing such a spectacular job this round and we cannot wait to see what you and our other bloggers have in store for our February round.
Our Amazing  Brothers Grimm Knights of Enchantment: MsBlu Moonwall, PurrFoxclaw, Synful Ghost, Alexandra Nevermind, Roxi Firanelli, Ikki Kanto, Yvain Vayandar, Skye McLeod Fairywren, GossamerStar, EloenMarie, Clau Dagger, Roxi Rockhard & Piper Olivia.