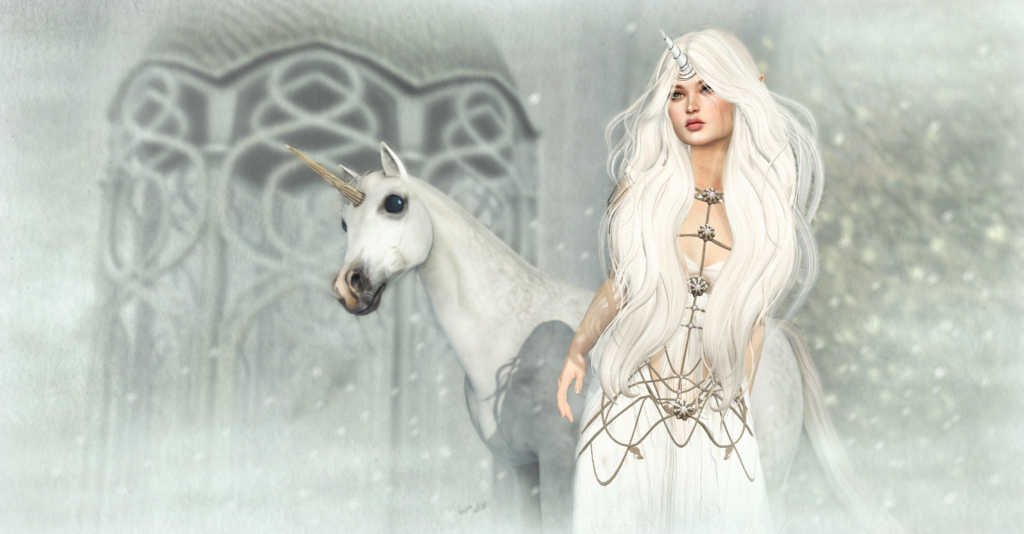 We're officially open and sooo ready to welcome one and all through our enchanted gates. This round's theme is The Last Unicorn by Peter S. Beagle. It's a thrilling story about Amalthea, the last Unicorn. Being the last of your kind must be difficult, but with a fantastic cast of characters by your side, life becomes a lot easier. We've pulled out all the stops this round and we're excited to share with you the beautiful, fun, and creative items the Designers have brought forth. Having been inspired by the novel or film, over 85 of Secondlife's most talented Designers have banded together to put on a breathtaking show!
We hope you'll have as much fun shopping, exploring, and taking photos as we have setting all of this up for you. Enchantment isn't just a shopping event- No! We're an experience. With live performances from SL's best DJs, singer-songwriters, and Particle Enthusiast, Burlesque shows by The Lady Garden Cabaret, an amazing art exhibit by The Lost Unicorn gallery, and game nights hosted by the Queen of Silliness herself, Sorchiee! We'll remain open until February 29th and immediately begin working on the next round which will take place in May. GAH! I want to tell you all the theme so badly…but I shall hold my tongue until the time is right. Remember that Enchantment also has a FREE HUNT! Yes, that's right. Completely free. It's a way for all of you to visit our wonderful Designers' stores and get some free goodies while you're at it! Oo! Oo! We also have a Photo Contest hosted by The Lost Unicorn Gallery, which you can enter into here: The Lost Unicorn Gallery's "The Last Unicorn" Contest.
*Remember to check out our Flickr and post your fun photos there! We'd love to see your Enchanted side and we want you to gather inspiration from our uhhhhhhhmazing Blogging team! <3 ~Enchantment's Flickr~
*Visit our Facebook to keep up to date on everything Enchantment… We also do giveaways, trivia, and other fun contests ~Enchantment's Facebook~
Oh! and…Last but not least… Happy Valentine's Day to all the lovers out there! For all my Single Guys and Gals… Keep living' the good life!
<3
Sorchiee, Duchess, Belle, & Divine #Squadgoals