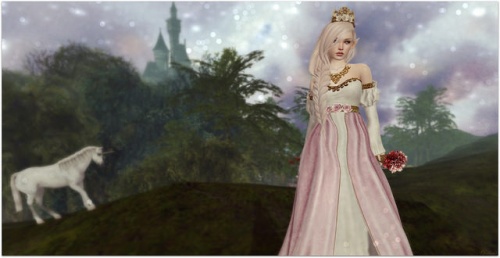 The Last Unicorn photo contest is hosted and juried by our favorite fantasy SL gallery, The Lost Unicorn Gallery. Participation in the contest is free and open to the public. The outstanding prizes for this round's Photo Contest are sponsored by some of our amazing designers, check them out below. Grab your avie, get a unicorn… and get busy!!
Here are the guidelines……
1.    Please submit pictures by Saturday, February 27  at midnight SL time
2.    You may submit up to 2 pictures
3.    The picture can be taken anywhere within Second Life
4.     Submit pictures (labeled "contest entry") to the following link:
Enchantment's The Last Unicorn Photo Contest Flickr group
You can also send your entries in a notecard in world to Natalie Montagne.  Be sure to put your avie's name on the notecard.
5.    Prizes will be given based on creativity, originality and staying within the theme of The Last Unicorn.  Here is the breakdown:
1st Place:
2500 Gift card to deviousMind
2000L Giftcard to Zibska
1000L Giftcard to [NC] Noble Creations
1000L Giftcard to Lybra
2000L Giftcard to Purple Moon
1000L Giftcard to Wicca's Wardrobe
1000L Giftcard to Aphrodite
1000L to Dysfunctional Designs
600L Giftcard to E.V.E
500L Giftcard to .:Soul:.
500L Giftcard to Empryean Forge
Entire Gacha Collection from Cole's Corner
Limited Edition armored  Unicorn from Culprit
Shy Unicorn Mermaid-Rillet by Mermaid's Treasure
2nd Place:
1000L Giftcard to deviousMind
1000L Giftcard to Zibska
1000L Giftcard to Purple Moon
500L Giftcard to Wicca's Wardrobe
Entire Collection of gachas except the rares from Cole's Corner
3rd Place:
1000L Giftcard to deviousMind
500L Giftcard to Zibska
500L Giftcard to Purple Moon
Entire Collection of gachas except the rares from Cole's Corner