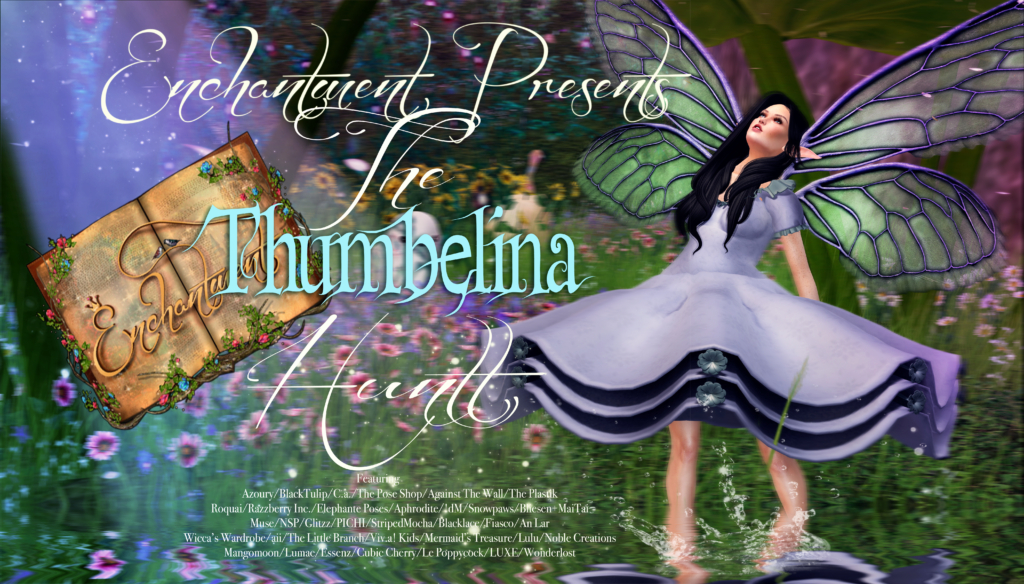 Let me be your wings…Let me fly you high above. Show you all I'm dreaming of inside…
Are you ready to give Thumbelina her wings?! She is counting on you to complete Enchantment's annual HUNT! With 28 of SL's best Designers participating you're sure to find a special goodie just for you! The HUNT is absolutely free and it's a way to give back to YOU, the consumer <3 Happy Hunting!
-FREQUENTLY ASKED QUESTIONS-
1.What am I looking for? The Enchantment book of course!
2. My HUD isn't turning green, why is that? It can be buggy at times… don't worry. Just reset it!
3. Where are my gifts? They'll be in a folder in your inventory. So…LOOK!
4. I can't find the book and I need help! Ask your fellow hunters!
5. I click the book but it does nothing! Are you close enough to the book? You need to be close to it.
6. The Book icons do NOT need to turn green in order to get the gift. HUDS are always buggy…remember you can RESET your HUD…The GREEN just allows you to see what you've completed.
If you have an questions, comments, or concerns allow Cornelius the oh-so-handsome Prince to lead you to our website for HUNT HINTS, Information, Event schedules, and more!
Thanks for believing!
The Enchantment Team <3
HINTS
Azoury : They are so hugglable and soft
Black Tulip: I am but a shadow of what I was in a now distant past.
Chocolate Atelier: Look up!
The Pose Shop: peek-a-boo! he sees you!
Against the wall: Though, the puzzle may seem impossible…
Plastik: I gacha a Crystal!
:: PM :: PurpleMoon: Creations Look for the Exploding Star
*ROQUAI: As the story unveils, a toad, takes our Thumbelina!
*RazzBerry Inc: no hint
Elephante Poses: "Tink is my cousin"
Aphrodite Shop: It must be on their Spring market somewhere!
*!dM: no hint
Snowpaws: What's in a name?
Bliensen + MaiTai: Mainstore We are watching you.
Glitzz Mainstore: I'm equal to a superstar! the spotlight is my guide!
PICHI Main Store: some green leaves in a frame!
Striped Mocha: Moo!
Blacklace Lounge: Drama Llamas need not apply, just come in under the sky!
*Fiasco: Mainstore no hint
Home of an lar [poses]: Love me so high
Wicca's Wardrobe: and the Oscar goes to…
Aii The Ugly & Beautiful: Hungry beast.
*The Little Branch: no hint
Viv.a! KIDS Store: At the base of the interior trees , there is a bud light.
Mermaid Treasure Boutique: Mind the drapes!
LuLu Mainstore* NEW ONE !: Stop calling, stop calling, I don't wanna think anymore.
[NC] – Noble Creations: From below here everything seems to be bigger
mangomoon: nipped' in the bud!
Lumae: Take a seat while I tell you a fable or two. It's Illuminating!
Essenz: Footwear What else is new?
Cubic Cherry: You need to be lucky to win at these!
Le Poppycock: Sorry, this seat is taken.
WONDERLOST: Thank you Mario! But our Princess is in another Castle!
*GIFT not available yet/No Hint