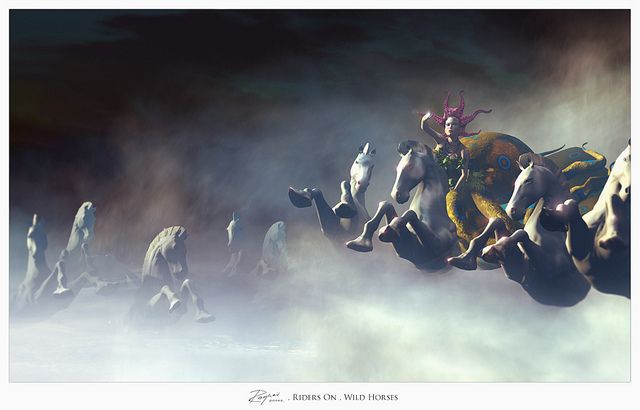 Roquai Poses has some absolutely creative poses at Enchantment this round. The artist behind Roquai is one of the most creative people I've encountered in Second Life; from her SIM designs, to her breathtaking images, to her amazingly artistic poses… she never disappoints! I have the honor of calling her my friend and couldn't imagine our little world without her smile in it! Anyway, go check out her poses – you will thank me later…. but, before you go… head to her blog to read the rest and view more beautiful images from this blog post (don't forget to follow her!!)
While I was playing with those great looking
waterhorses
by
meadowworks
, my thoughts went on enchanted roads and leaded me to another great tale of my childhood. You remember
"The last Unicorn"
from 1982? Man, I loved that story and the scene, when those unicorns come riding on the waves and that great devilish villain! One of my favourite quotes:
"There are no happy endings, because nothing ends."
 So perhaps and after all, some day even Ursula will find her happiness. But we are not here to talk about movies either, we are here to review some of the latest arrivals at
ENCHANTMENT
…….
Read the rest on ROQUAI – Journey of Creativity