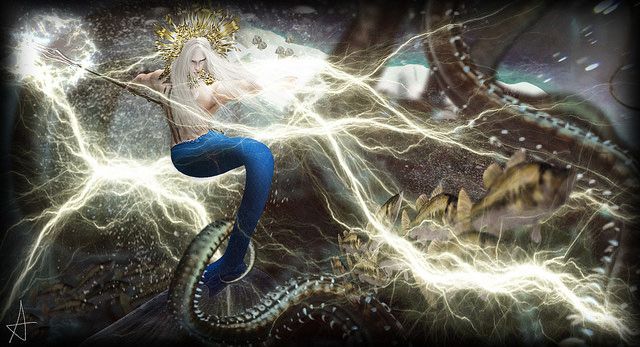 Today's Picture of the Day is by Adra Braeden. We love the dynamics of this composition and of course…. the subject matter!
Adra says:
King Triton didn't go down without a fight. Protecting Atlantis , merfolk , sea and off course his daughter. I've seen many Ariel's lately , Eric's and Ursula's but didn't get a look from King Triton yet!!
And here is mine!
As fancy crown is Zibska's headpiece Caliste just magnificent to use. Looking good there Triton! Burn that huge bum Ursula! YOU RULE!
**Enchantment Event items used** Jomo tail , CX Trident and Caliste from Zibska**
Credit for tentacles : roys-art.deviantart
Credit for fish : free-stock-by-wayne