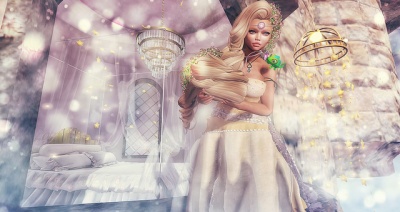 Today's beautiful Image of the Day is by artist, Sugarfairy88 Resident. The image is titled "Anticipation" and depicts a romantic Rapunzel delicately holding her hair in the bedroom of her tower. The image is dreamy and enchanted! Well done Sugarfairy, your art is inspirational!

Be sure to check out Sugarfairy88's blog for all the credits, close-ups and ramblings.
"Leaving what feels secure behind and following the beckoning of our hearts doesn't always end as we expect or hope. We may even fail. But here's the payoff: it can also be amazing and wonderful and immensely satisfying."  ― Steve Goodier

Each round of Rapunzel has a photo contest that is sponsored by The Lost Unicorn Gallery. You can view the images that have been submitted to the contest pool on Flicker. Be sure to add yours!!!