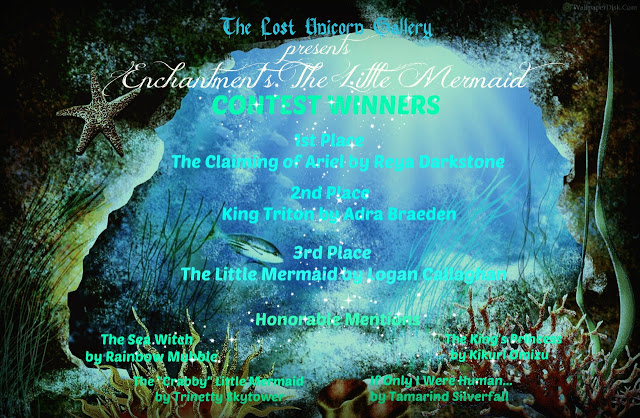 The Lost Unicorn Gallery has announced the winners in the first Enchantment Photo Contest: The Little Mermaid. There were so many beautiful images submitted and the decision was no doubt, extremely hard.
Head to The Lost Unicorn Gallery's blog to see the winning images!
We also want to thank curator, Natalie Montagne, for all the work she did in making this contest a great success! We look forward to working with her next round!
From The Lost Unicorn Blog:
First, I want to say a big thank you to all those who entered the Enchantment Little Mermaid Photo Contest! We had a total of 84 entries and ALL were amazing creations! This made it a VERY difficult decision for the judges and the reason we ended up with four Honorable Mentions! The criteria was creativity, originality and staying within The Little Mermaid theme. CONGRATULATIONS to the winners who will receive the following:
1ST PLACE: 5 fatpacks sponsored by the Plastik
2ND PLACE: 3 fatpacks sponsored by the Plastik
3RD PLACE: 1 fatpack & 1000L worth of merchandise sponsored by The Plastik
Thank you again to everyone for entering!!
THE WINNING PICTURES
(they will also be displayed at the front of the gallery)