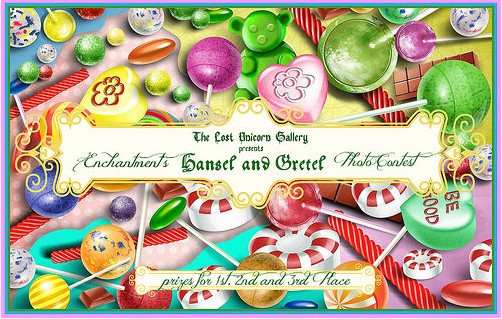 Enchantment's Hansel and Gretel Photo Contest!
Welcome to another round of the fun and wonderful event Enchantment! This round is based on none other than the favorite German classic, Hansel and Gretel by Brothers Grimm! This dark fairy tale about 2 children getting lost in the deep forest has been around since 1812. There are many photo possibilities related to this tale. I also took a quick look at the vendors tonight…wow! So many props and fashions for your photos too! As always, there will be prizes given for 1st, 2nd and 3rd Place….enjoy!
Don't forget to submit your pictures for the photo contest!! They need to be turned in by this Sunday the 27th.
Full Rules for the Contest on on The Lost Unicorn website
Remember to join the Enchantment Photo Contest sponsored by The Lost Unicorn Gallery every round. Find out all the information on The Contest's Flickr Page.